About
Oscoda County is a well-known destination for bird enthusiasts hoping to add the endangered Kirtland's Warbler to their life lists. This rare songbird, which nests only in the jack pine barrens of northern Michigan, had declined to less than 400 individuals by 1971. Since then, thanks to the recovery efforts of Federal and State wildlife agencies, Kirtland's Warbler populations have recovered significantly, with over 1800 pairs recorded in 2011. Oscoda County continues to host one of the largest breeding populations of this species, and each year hundreds of birders from literally around the world flock here to find this rare bird. Most travel to the Mio U.S.F.S. district ranger station to attend guided tours into Kirtland's Warbler nesting areas, while other attempt to find the bird on their own. What most of these birding enthusiasts might be surprised to discover is that Oscoda County also hosts a rich and diverse population of many other bird species as well.
Oscoda County is home to more habitats than just jack pine forests. Centered squarely on the valley of the Au Sable River, the county is topographically and ecologically diverse and encompasses vast public stands of upland pine, hardwood, and mixed pine/oak forests, low-land coniferous forests, old fields, sedge meadows, bogs, deciduous wetlands, riparian swamps, and dry-sand prairies. With few towns and residential areas, much of Oscoda County's private lands remain forested and undeveloped as well. Add to this extensive habitat the fact that that many northern and southern species meet and overlap here, the diversity of local bird life should not be surprising.
Spring migration brings Oscoda County's summer bird population to well over 160 nesting species. Few waterfowl, gull, shorebird, or rail species can be expected due to the county's lack of extensive marshlands or Great Lakes shoreline, but the upland birds more than make up for this. Over 20 warbler species regularly nest in the county, including such notables as Blue-winged, Golden-winged, Magnolia, Cape May, Pine, Blackburnian, Mourning, and Canada Warblers. Additionally, 12 species of raptors (such as Northern Goshawk, Red-shouldered Hawk, and Merlin) nest here, as do 8 species of woodpeckers, 8 flycatchers (Alder, Willow, and Olive-sided Flycatchers among them), 4 vireos, 6 owls, and 12 sparrows (including Vesper, Lincoln's, Clay-colored, Grasshopper, and White-throated Sparrows). Other sought-after species that are common county summer residents include Upland Sandpiper, Common Loon, Trumpeter Swan, Black-billed Cuckoo, Eastern Whip-poor-will, Common Raven, Purple Finch, and Evening Grosbeak, and rare-but-regular nesters such as Yellow Rail, Spruce Grouse, Black-backed Woodpecker, and Red Crossbill offer challenging possibilities.
Spring and fall migrations through Oscoda County are not especially noteworthy – the area provides so much habitat that the migrant traps and habitat islands birders depend on for concentrating migrating birds don't really exist here. Winter birding in Oscoda County, however, can be quite rewarding. Common county winter residents include such notables as Rough-legged Hawk, Northern Shrike, Golden-crowned Kinglet, Snow Bunting, Pine Siskin, and Common Redpoll. Other sought-after winter invaders that are less regular but often present include Snowy and Short-eared Owls, Bohemian Waxwings, Pine and Evening Grosbeaks, Hoary Redpolls, and Red and White-winged Crossbills.
Oscoda County is over 80% forested, and much of this is public land. With so much area to choose from, where should visiting birders go to find their "target species"? The choices are so many as to be somewhat overwhelming, but five top-notch birding locations are described below.
The Mack Lake Area – This large sandy outwash plain surrounds Mack Lake in southeast Oscoda County and can be easily accessed via Curtisville or Evans Roads. It includes mature jack pine forests, jack pine scrublands, dry-sand prairies, recent burn areas, and (of course) plenty of designated Kirtland's Warbler habitat (which you cannot legally enter from April through September except on the tour). This dry, scrubby, desolate area can be surprisingly rich in bird life. Besides the Kirtland's Warbler, Nashville, Pine, and Yellow-rumped Warblers are particularly common. Other notable (and often surprisingly common) nesting species include Northern Goshawk, Bald Eagle, Trumpeter Swan, Spruce Grouse, Upland Sandpiper, Yellow-billed Cuckoo, Common Nighthawk, Northern Saw-whet Owl, Eastern Whip-poor-will, Black-backed Woodpecker, Olive-sided Flycatcher, Common Raven, Hermit Thrush, Eastern Bluebird, Brown Thrasher, Eastern Towhee, Dark-eyed Junco, Brewer's Blackbird, Evening Grosbeak, Red Crossbill, and Vesper, Lincoln's , and Clay-colored Sparrows.
Curtisville Road – About 6 miles east of the Mack Lake area the Curtisville Road veers right and becomes gravel. This stretch of Curtisville Road runs for a little over 2 miles to the county line and traverses a rich mix of upland hardwood forests, cedar and deciduous swamps, and old fields. Some of this area is public, but much is private so you should plan to bird from the road. This is one of the best areas in the county for finding the Black-billed Cuckoo, and other good birds to be had include Sharp-shinned, Red-shouldered and Broad-winged Hawks, Green Heron, Upland Sandpiper, American Woodcock, Wilson's Snipe, Barred Owl, Eastern Whip-poor-will, Ruby-throated Hummingbird, Yellow-bellied Sapsucker, Pileated Woodpecker, Alder, and Willow Flycatchers, Sedge Wren, Veery, Wood Thrush, Indigo Bunting, Rose-breasted Grosbeak, Savanna and Grasshopper Sparrows, Bobolink, Eastern Meadowlark, Baltimore Oriole, and a rich array of warblers including Black-and-White, Golden-winged, Yellow, Black-throated Green, Chestnut-sided, Pine, and Mourning Warblers, Ovenbird, Common Yellowthroat, American Redstart, and Northern Waterthrush.
Loon and Island Lakes – These picturesque lakes in the south-central portion of the county are largely encompassed by the Huron National Forest and provided with several picnic areas, campgrounds, and nature trails that afford good access for birders. The area is quite hilly with numerous kettle lakes, wetlands, and moist upland forests of oak and maple. The area is predictably rich in bird life and offers excellent opportunities for finding Red-headed Woodpeckers, Yellow-throated Vireos, and Scarlet Tanagers. Other common and notable summer residents include Trumpeter Swan, Common Loon, Spotted Sandpiper, Broad-winged and Red-shouldered Hawks, Green and Great-blue Herons, Ruffed Grouse, American Woodcock, Black-billed Cuckoo, Pileated Woodpecker, Red-eyed Vireo, Wood Thrush, Veery, Cedar Waxwing, Black-throated Green, Chestnut-sided, and Mourning Warblers, American Redstart, Rose-breasted Grosbeak, and Indigo Bunting.
The East Branch of Big Creek – The river valley of this delightful trout stream constitutes one of Michigan's southernmost expanses of sub-boreal spruce/fir forest. It can be accessed most easily at two points:

along a half-mile stretch of Mapes Road between Galloway and Zimowske Roads
by hiking the Luzerne Boardwalk, a scenic mile-long stretch of the Michigan Shore-to-Shore Trail that can be reached off Galloway Road about a mile south of the village of Luzerne. Many of the notable bird species that can be seen here are more typical of the Upper Peninsula or Canada and include Merlin, Northern Saw-whet Owl, Hairy Woodpecker, Olive-sided Flycatcher, Blue-headed Vireo, Common Raven, Red-breasted Nuthatch, Brown Creeper, Winter Wren, Golden-crowned Kinglet, at least 15 species of warbler such as Black-and-White, Nashville, Magnolia, Cape May, Yellow-rumped, Black-throated Green, Blackburnian, Chestnut-sided, Pine, Mourning, Canada, and Northern Waterthrush, White-throated and Lincoln's Sparrows, Evening Grosbeaks, Purple Finch, and Red Crossbills.

5. The Amish Area – The rolling pastures and Amish farmlands that lie in the north-central part of the county roughly between Kneeland and Kittle Roads offers excellent summer and winter birding opportunities. A late spring or summer birding tour along these open country roads will likely produce such notable finds as Northern Harrier, Wild Turkey, Sandhill Crane, Upland Sandpiper, Wilson's Snipe, American Pipet, Red-headed Woodpecker, Bank, Cliff, and Northern Rough-winged Swallows, Purple Martin, Sedge Wren, Eastern Bluebird, Savanna, Grasshopper, Vesper, and Swamp Sparrows, Bobolink, Eastern Meadowlark, and Brewer's Blackbird. Other grassland species encountered on occasion include Dickcissel, Western Meadowlark, and even Henslow's Sparrow. Winter and early spring birding can be equally productive, with Rough-legged Hawk, Northern Shrike, Horned Lark, Bohemian Waxwing, Snow Bunting, Lapland Longspur, Common Redpoll, and Pine Siskin likely and Snowy and Short-eared Owls, Bohemian Waxwing, Pine Grosbeak and White-winged Crossbill possible as well.
James C. Dawe
Mr. Dawe, biology teacher and county resident for 37 years, is a seasonal surveyor for the Michigan Audubon Society and is currently a member of the Michigan Bird Records Committee.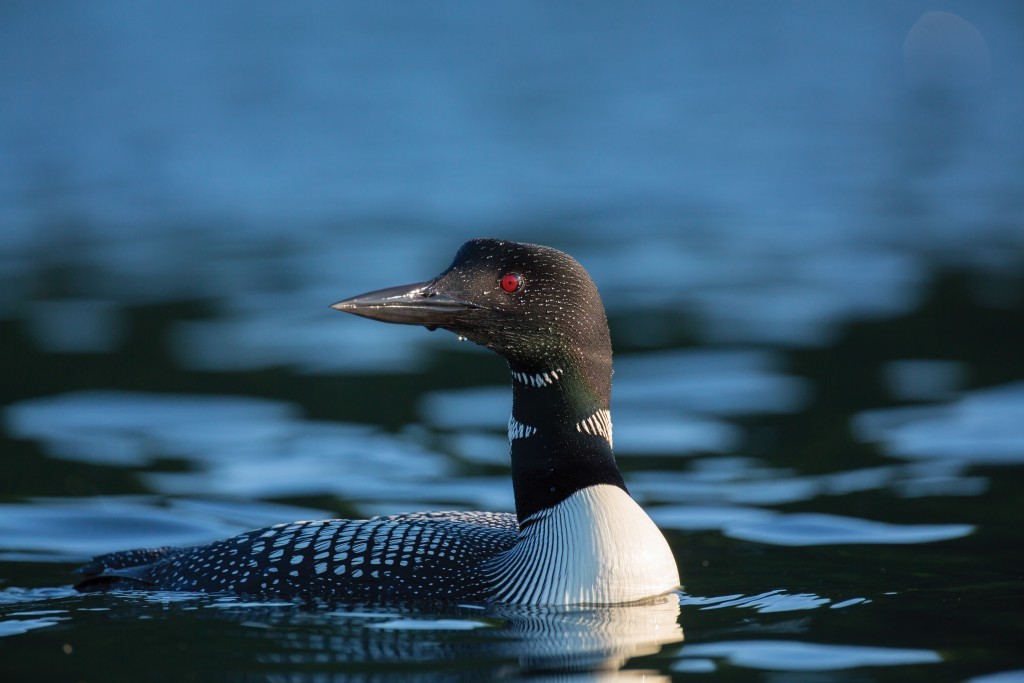 © The photos on this page are copyrighted by it's respective owner Gary Gee. All rights reserved. Unauthorized use prohibited. Go to www.photographyupnorth.com to see his other photography work.