About
Luzerne Boardwalk winds through an old growth cedar swamp along the bottom lands of the East Branch of Big Creek, just south of the village of Luzerne. With towering cedars overhead and water underneath, the sturdy boardwalk (constructed and used by horseback riders) offers a unique and beautiful hike. An extensive network of hiking/horse trails extends beyond the one-half mile boardwalk, but the boardwalk itself is not a loop trail. A tornado crossed this area in 1997 and uprooted some large white pine and cedar trees. These dead snags and downed timber attract woodpeckers and chickadees and provide cover for a variety of wildlife species including bears and bobcats.
Directions
From the M-72 traffic light in Luzerne, drive south on Deeter Road for 1/2 mile to Palmer Road. Turn left (east) and proceed 1/4 mile to Galloway Road. Turn right (south) and drive 3/8 mile to Forest Road 3023. Turn left onto this two-track and drive until it ends at the Luzerne Boardwalk parking area.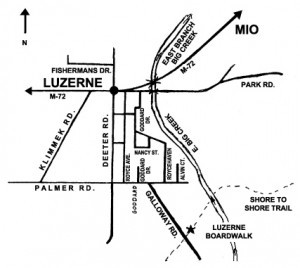 Ownership: U.S. Forest Service, Mio District Ranger Station, (989) 826-3252.