Shore to Shore Hiking & Horse Trail
About
Luzerne Trail Camp
The Hiking and Horse Trail is a Shore-to-Shore marked trail, from Lake Huron at Oscoda to Lake Michigan at Empire.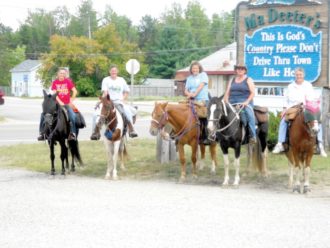 There are many trails surrounding these two camps. You will see deer, wild turkeys, and other smaller animals while walking or riding through our beautiful forest as you climb hills and cross rivers.
These trails and camps are maintained and cared for by the DNR, USDA Forest Service and Michigan Trail Riders Association.
To find the Luzerne Camp from Mio go west on M-72, 8 miles to Luzerne, then south on County Road 490, 2 miles; continue south on Forest Road 4541, one mile to the camp.
McKinley Trail Camp
This large trail camp is one of several campgrounds on the Shore-to-Shore trail. Used primarily by horseback riders, the camp is available throughout the year for hunting, backpacking and general camping. The campground can easily accommodate large groups.
From Mio, take County Road 602 east nine miles to the McKinley Trail Camp access road (Forest Service Road 4004). Turn north and travel one mile to the camp.